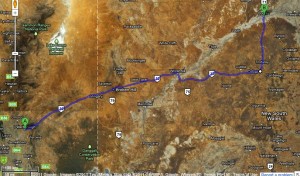 Day 2 is going to be a big day of driving. We're booked into a motel in Bourke, New South Wales which is 1,116km from home in Adelaide or 900km from Peterborough. So it will be an early start. So get up, pack up, find  some breakfast and get on the road.
After breakfast, it's on to Yunta on the Barrier Hwy. Yunta is a very small outback town 158km north, north east of Burra with a few houses, and a couple of roadhouses for fuel and food. With about 200km to Broken Hill, will be a check of fuel usage and top up if required. Also a  stretch of the legs and a few photos the stop here is expected to be about 10-15mins.
Back on the road to the border town of Cockburn 149km further along the Barrier Hwy in a north easterly direction. Its real outback with red dust as far as the eye can see and relatively flat. Will be a quick stop here for some photos as we stand on the border between South Australia and New South Wales and then back on the road.
Broken Hill, a mining town in the far west of New South Wales will be our lunch stop. Broken Hill is 500km from home and 50km east, north east of Cockburn (the border crossing). A fairly large regional town we should have no problems finding a counter meal somewhere. Approaching Broken Hill, the country side changes a bit as the name suggests, it's no longer flat.
The forecast for Broken Hill is cloudy with rain at times. There will be a chance of thunderstorms from the late morning. Winds are expected to be north to north-westerly averaging up to 60 km/h tending westerly 40 to 55 km/h later in the evening.
Next stop will be Wilcannia, a town 195km to the east with what looks like nothing between Broken Hill and Wilcannia except for a lot of red desert. This will be new road for us, as we haven't travelled east of Broken Hill. Plan will be to stop in Wilcannia and find out what the river road is like to Bourke, via Tilpa and Louth or if we should stay to plan and go the long way (paved road) around via Cobar.
Assuming we're staying on paved road, next town, Cobar, will be 260km east. We need to get to Cobar by about 4:30pm so we make it to Bourke before the wildlife hits the highway at about 6pm and its still daylight. So it will be a quick stop, stretch, some photos, check the car and back on the highway.
At Cobar we change direction, heading north, leaving the Barrier Hwy and changing to the Mitchell Hwy for the last 160km of the days driving. Getting to Bourke, its find the hotel, check in, get the car ready for the next day with fuel etc. And then dinner and bed as it's another early start the next day.
The weather forecast for Bourke is cloudy with patchy rain in the west, extending throughout from the morning with a chance of thunderstorms in the south from the late morning. Winds are expected to be north to north-easterly averaging 20 to 30 km/h, reaching 50 km/h at times, tending north-westerly up to 60 km/h around midday. Overnight the temperature is expected to fall to between 16 and 20 with daytime temperatures reaching around 30.
Well that's the plan anyway. We'll see how we go. Don't forget, you can follow us on the live tracking page at http://travellog.trev.id.au/gps.