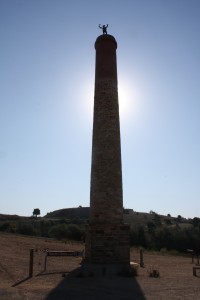 Today, Tuesday 27th September 2011. We headed off about 1:30 this afternoon after saying goodbye to Lynne and Annie. Wasn't a big drive but did hit a problem with the GPS. The car's 240V power is not good enough to keep the laptop running hence tracking stopped a few hours after leaving Adelaide (about half way to Peterborough).
A quick stop in Burra to stretch and grab something to eat also saw a photo oportunity at the old chimeny.
We managed to get a cabin at the Peterborough Caravan Park which is good. Allows us an early start in the morning.
Didn't get many photo's on this leg. It was quite short really. More tomorrow.